Sparrow is a low mobility Ranger capable of becoming a high damage carry late game. Sparrow depends on her teammates for protection, while she devastates enemies with her attacks.
Sparrow can use Piercing Shot to harass enemies at range or drop Hail of Arrows to deal damage in an area, while using Relentless to focus down single targets. Sparrow's Ultimate, Inner Fire, allows her to hit multiple targets by splitting her arrows into volleys of three.
Sparrow has no escape abilities so positioning is key. Don't push too far forward without backup. In teamfights stay behind your tanks and focus down targets from afar.
Abilities
Background
As a child, practiced the bow until her fingers bled, then practiced some more.
Has been imprisoned many times.
Loves the hunt more than the kill.
Sparrow is in the same noble family as Greystone, specifically his niece.
Gallery
Skins
Images
Videos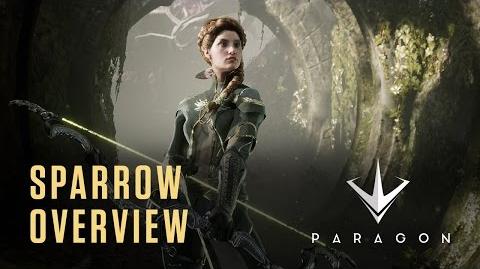 Change Log
Update .39 - April 4, 2017
Polish & Bug Fixing

Fixed Sparrow's low health vocal effort sound contiously playing after she has been healed.
Update .38.4 - March 21, 2017
Added the Zechin Huntress skin to in-game store.
Update .38.3 - March 14, 2017
Piercing Shot

Card Scaling reduced to 0.75 from 1.0
Base damage reduced to 75 / 125 / 175 / 225 from 80 / 140 / 200 / 260
Cooldown increased to 9 seconds from 8 seconds

Inner Fire

Cooldown to 100 / 85 / 70 from 90 / 70 / 50
Update .38 - February 21, 2017
Polish & Bug Fixing

Fix for some animation clipping issues with Sparrow's Hail of Arrows ability
Minor tweaks to Sparrow's primary attack FX.
Update .37 - January 31, 2017
Piercing Shot

Piercing shot now correctly charges for 1s.
Fixed a bug where Piercing shot would not pass through geometry.

Polish/Bug Fixing

FX improvements to Rain of arrows.
Update .36.2 - January 24, 2017
Polish/Bug Fixing

Fixed various clipping, mesh and animation issues.
Update .36.1 - January 17, 2017
Attack speed per level to 2.8 from 0.
Update .36 - January 10, 2017
Polish and Bug Fixing

Added duration display to "Inner Fire" UI element.
Bow Shot impact audio has been updated to be more clear when an enemy is struck.
Update .35.1.2 - January 3, 2017
Relentless

Increased damage multiplier to .03/.05/.07/.09 from .02/.035/.05/.065
Update .35 - December 6, 2016
Hail of Arrows

Damage type adjusted from "Physical" to "Ability."
Animation speed has been increased.
Cooldown adjusted from 12/11/10/9 to 12 seconds at all levels

Relentless

Damage type adjusted from "Ability" to "Physical"
Stack Limit reduced from 10 to 5.
Each stack now adds a percentage of Sparrow's basic attack damage 2%/3.5%/5%/6.5%

Piercing Shot

Damage type adjusted from "Physical" to "Ability."
Projectile speed has been increased.
Cooldown has been reduced from 10 to 8 seconds at all levels.

Inner Fire

Cooldown has been reduced from 100/90/80 to 90/70/50 seconds.
Update .32 - September 27, 2016
Polish & Bug Fixing

Various animation polish and tweaks.
Update .31 - September 6, 2016
Piercing Shot

Added ground targeting element to Piercing Shot.

Polish & Bug Fixing

Fixed missing audio for arrow impacts on Hail of arrows.
Update .30 - August 11, 2016
Bug Fix/Polish

Added sounds to recall, taunt, and level start animations.
Update .29 - July 26, 2016
Bug Fix / Polish

Fixed an issue where Hail of Arrows would cause an extra tick of damage to be applied.
Update .28 - June 30, 2016
Bow Shot

Projectile speed should now be consistent with all other projectile speeds.

Piercing Shot

No longer disappears if Sparrow is silenced or stunned after cast.

Relentless

Increased duration of stacks from 3 seconds to 5 seconds.

Polish/Bug Fixing:

Added sound to Sparrow emote, victory, respawn, match start, and select screens.
Update .27.1 - June 21, 2016
Inner Fire

Fixed Ability damage behaving incorrectly due to basic attack changes that were not also applied to her modified basic attack when ulted.
Update .27 - June 14, 2016
Passive - Relentless

This functionality has been moved into the base hero kit - see below.

Hall of Arrows

Card scaling has been reduced from 1.0 to 0.25.

Invigorate

Ability renamed to "Relentless".
Ability has been redesigned - no longer increases attack speed.
Passive : Successive hits on the same target deal an additional 3/7/11/15 Physical. Damage. This effect stacks and is triggered by any damage Sparrow causes.

This ability now caps at 10 stacks.

Polish / Bug Fixing:

Added Sparrow death and low health vocal efforts.
Corrected a bad interaction with Inner Fire and Bowshot.
Update .25 - May 10, 2016
Fixed double damage indicators appearing when using Hail of Arrows.
Update .24 - April 21, 2016
Updated Select Screen animations for Sparrow, Grux, Howitzer and Gideon.
Extended Recall animations for Kallari, Muriel Gideon, Sparrow and Steel to prevent them from popping back into idle before teleporting.
FX Updates for Inner Fire.
Jump changed so she stays in targeting pose.
Updated Sparrow vocal efforts when attacking, walking, jumping, etc.
Fixed a bug where sparrows primary crosshair would show up when targeting with Hail of Arrows. Also swapped out Piercing Shot and Inner Fire crosshairs for crosshairs that are different than her primary fire so it's clear her mode has changed.
Update .23 - April 6, 2016
Updated lobby animations for Sparrow, Gideon, Grux and Steel.
Version OT10 - March 5th, 2016
Patch 1:
Fixed a bug where Sparrow did not drop Amber when she died.
Patch 2:
Reduced card scaling of Draw A Bead ability.
Dead Eye passive ability now capped at 5 stacks.
Removed damage bonus from middle arrow during Inner Fire ultimate ability.
Invigorate ability has been reworked to now grant increased attack speed for her next 3 arrows.
OT8 - February 19th, 2016
Players can no longer reset their auto attack by activating E ability.
OT7 - February 13 2016
Reduced the damage increase on her center ultimate arrow.
The attack speed buff on Invigorate (E) ability has been fixed to last the full duration.
Increased cooldown for Invigorate (E) ability to account for the active duration of the ability.
OT5 - January 30th, 2016
Hail of Arrows (Q) damage radius collision no longer persists 1 second after the VFX ends.
OT4 - January 23th, 2016

Inner Fire (R) reworked to increase the effect of leveling this ability.
Ground placement of Hail of Arrows (Q) will now work on extreme heights.
OT3 - January 15th, 2016
Added short description updates for in-game ability upgrade menu.
Inner Fire (R) updated to be more consistent with other Basic Attack (LMB) enhancing ultimates.
OT2 - January 9th, 2016
Re-oriented Inner Fire (R) ability aim towards the reticle and added more polish.
Hair pass on Inner Fire (R) ability fires. New aim offset to play nicer with turn animations.
Ad blocker interference detected!
Wikia is a free-to-use site that makes money from advertising. We have a modified experience for viewers using ad blockers

Wikia is not accessible if you've made further modifications. Remove the custom ad blocker rule(s) and the page will load as expected.