Narbash is a melee caster who uses the power of his drums to support his allies. Utilizing different types of utility and a variety of melodies, Narbash inspires his team to march into combat and overtake his enemies.
Narbash always has a shuffle in his step, so he can use his rhythm to set tempo of his match. When he needs to inspire his team in the heat of battle he can use the "Song of My People" to grant bonus health regen to nearby allies and himself. Narbash's drumsticks are for more than just keeping the beat, "Thunk" stuns an enemy, allowing a teammate to move in for the kill. "March" will grant movespeed to nearby allies, allowing Narbash and his comrades to charge into battle! And finally his ultimate "Crash Bang Boom!" will allow him to drop the bass on his opponents. Narbash will deal continuous damage around him slowing enemies and ending with a colossal knockup.
When playing Narbash be ready to lead your team into glorious combat. Use March to overtake enemies or to make a quick escape. Save Thunk to interrupt key enemy ultimates or to stun an incoming threat. And when you're ready to stop the show, lay down the beat with Crash Bang Boom to disrupt teamfights.
Abilities
Background
Once turned an actual battle into a dance battle through inspired drumming.
Ancient sculptures have been found that look just like him.
At least 600 people believe they are his best friend. They may all be correct.
Gallery
Skins
Videos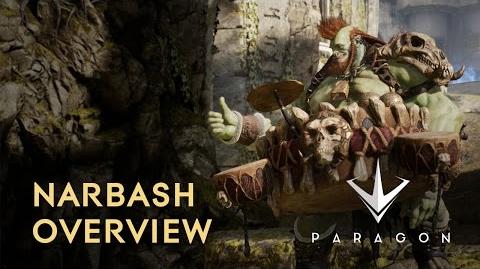 Change Log
Polish/Bug Fixing

Song of My People tooltip displays upgraded mana cost.
Audio added to thunk targeting.
Thunk

Increased cooldown to 14s from 12s
March!

Cooldown adjusted from 21/19/17/15 to 24/20/16/12 seconds.

Song of My People

New Regen Values set at 10/20/30/40.

Thunk

Damage type adjusted from "Physical" to "Ability."
Cooldown adjusted from 18/17/16/15 to 12 seconds at all levels.

Crash Bang Boom!

Damage type adjusted from "Physical" to "Ability."
Cooldown reduced from 100/90/80 to 100/85/70 seconds.
Crash Bang Boom!

AoE slow effect now persists for the full duration of the ability.
Narbash added to Paragon.
Added Ginger Jamz Narbash skin to in-game store.
Ad blocker interference detected!
Wikia is a free-to-use site that makes money from advertising. We have a modified experience for viewers using ad blockers

Wikia is not accessible if you've made further modifications. Remove the custom ad blocker rule(s) and the page will load as expected.