Iggy & Scorch are back, and ready to set anything and everything on fire. The inseparable pair have new toys stolen straight from Drongo's junkyard, and are ready to turn up the heat.
Iggy and Scorch return with their new and improved Flame Turret. These turrets now fire homing projectiles, that Iggy and Scorch can direct with their basic attacks. You can only have 4 turrets up at a time, but that's more than enough to control large areas, and make it difficult for enemies to bring it down. Burning Sensation will passively cause Iggy and Scorch's turrets and basic attacks to set enemies ablaze, dealing damage over time. Landing successful attacks will refresh the duration of the burn, and if enemies aren't careful, they will be left with a strange...burning sensation. Molotov allows Iggy to set an area on fire, dealing damage over time to enemies within the area of effect. Enemies standing in the flames will also have their ability armor reduced, allowing Iggy and Scorch to deal more and more damage over time. Molotov has great synergy with other casters, allowing their abilities to deal more damage. And finally, your Ultimate is BLAZE! and it kicks your turrets into overdrive. While active, your turrets turn into machine guns, dealing more damage, slowing enemies and piercing through any enemies caught in their sights. When you are looking to cause mass chaos, throw 4 turrets and kick it up a notch with BLAZE!
Iggy and Scorch excel at creating a strong defensive line, and denying large areas. Keep in mind, enemies can easily destroy your turrets, so placing them strategically will allow you to get the most out of them, and set everything on fire. Iggy and Scorch can be devastating in teamfights, especially if they have a time to set up. With a well placed Molotov, it will increase not only your damage, but the ability damage your allies do as well. If you try to engage enemies without a strong defensive line, you will easily be extinguished. Get ready to set the world on fire, as Iggy and Scorch.
Lore
Iggy & Scorch were both outcasts and survived in the deserts of Zechin with nothing but each other for help. When they were kidnapped by mysterious "metal-men" and flown to Omeda, they crashed the ship and escaped out into the desert - which was perfect for them. They stole their weapons from a junkyard run by Drongo.
Both were cast-out as runts. Suits them just fine.
Scorch once ate all the molotovs, passed out, and burned down an orphanage.
Iggy thinks he's a dinosaur. Scorch disagrees.
Abilities
Gallery
Skins
Images
Videos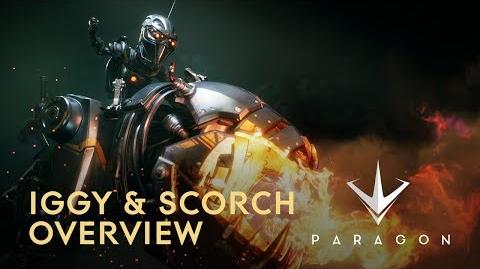 Change Log
Oil Slick

Move speed increased to 100 at all levels from 20 / 30 / 40 / 50

Flame Turret

Base damage increased to 300 / 450 / 600 / 750 from 150 / 280 / 410 / 540
Flame Turret

Made Iggy's turrets team colored.

Increase oil hit box making it easier to light the oil when the enemy standing next to it is basic attacked.
Added Char-Demon Iggy & Scorch to in-game store.
Polish/Bug Fixing

Fixed various clipping, mesh and animation issues.
Polish and Bug Fixing

Added sound to the "So Sleepy" emote.
Flame Turret

Increased max turret count to 1/2/2/3 from 1/1/2/3
Increased base damage per second to 15/28/41/54 from 12.5/22.5/32.5/42.5

Oil Slick

Decreased mana cost to 40 at all levels from 80/90/100/110
Flame Turret

Damage type adjusted from "Energy" to "Ability."

Oil Spill

Damage type adjusted from "Energy" to "Ability."
Cooldown reduced from 17/16/15/14 to 8 seconds.

Oil Slick

Damage type adjusted from "Energy" to "Ability."
Cooldown increased from 24/23/22/21 to 18/16/14/12 seconds.

Flame Belch

Damage type adjusted from "Energy" to "Ability."
Cooldown reduced from 100/90/80 to 90/75/60 seconds.
Added Iggy & Scorch Emote 'So Sleepy' to in-game store.
Fireball Iggy & Scorch skin added to in-game store.
Bug Fix/Polish

Fixed an issue where turrets could deal slightly more damage than reflected in the tooltip.
Added sounds to recall, taunt and level start animations.
Bug Fix / Polish

Fixed an issue where Flame Belch would remain on for the entire duration even after death.
Flame Turret

Turret fuel/fire time adjusted from [10, 11.5, 13, 14.5] to 12 at all levels.

Polish/Bug Fixing:

Increased audio volume of Flame Belch.
Passive - Ignite

This functionality has been moved into the base hero kit - see below.

Flame Turret

Cooldown increased from 1 second to 3 seconds.
Decreased deactivation time from 5 seconds to 3 seconds.

Oil Spill

Placement range increased from 1500 to 1750.
Ignite functionality is now core to Oil Spill.

Flame Belch

Removed ability confirmation - now casts instantly.

Polish / Bug Fixing:

Adjusted onscreen FX during Flame Belch and Flame Turret.
Adjusted Burn screen FX to be less opaque, increasing visibility.
Mana Regen has been removed as a recommended stat.
Turret stack counter now updates properly.
Turrets no longer stay cloaked while firing from a shadow pad.
Iggy's Master Challenge emote reward should now have the correct icon.
Fixed a bug where Iggy's burn was not being applied if a target was oiled from Oil Trail while already taking fire damage from Flame Turrets or Flamethrower.
Updated Iggy & Scorch sounds:

Remastered Scorch vocals to give more weight and volume.
Increased volume of Flame Belch.
Added new vocal for Oil Spill.
Added throw sound to Flame Turret.

Adjusted timing and location for Iggy & Scorch's Oil Trail.
Updates and polish to Flame Belch animation.
Ultimate duration reduced from 5 to 2.5.
Fixed an issue where Iggy's Turret decal would change color after rejoining.
Ability tooltips descriptions fixed.
Fixed a bug where Iggy & Scorch would pop back into their idle state at the very end of Recall.
Fixed a bug where Iggy & Scorch's Cooldown was reading 15 when it should be reading 1.
Iggy and Scorch have been added to Paragon.
Ad blocker interference detected!
Wikia is a free-to-use site that makes money from advertising. We have a modified experience for viewers using ad blockers

Wikia is not accessible if you've made further modifications. Remove the custom ad blocker rule(s) and the page will load as expected.