Howitzer is a ranged Caster with an explosive arsenal at his disposal. Using Rockets, Land Mines and Slow Grenades, Howitzer is able to deal area of effect damage, control large areas and even disrupt and slow down his enemies.
Howitzer can use his R2000 missile to poke and harass enemies at range. Land Mine, when detonated, knocks enemies and Howitzer back, allowing Howitzer to escape safely if something goes wrong. Make it Rain deals damage in a large area but can also be used defensively to pull Howitzer out of combat for a few seconds.
When in teamfights use your abilities to rain heavy artillery down on your enemies or your Slow Grenades to control the fight. Late game, Howitzer can easily take out minions, making it difficult for enemies to push in to your base or push you out of theirs. Use your abilities to disrupt the enemy team and zone out the enemy damage dealers.
Abilities
Background
Published an article on grenades: theory, practice, and aesthetics.
Charged with destruction, mayhem, and defacing public property.
Installed a humidor in his mech.
Trivia
Howitzer's Wasteland skin, when it was first revealed looked like this, however it was changed to the current version due to it's resemblance to the Challenger skin.
Gallery
Skins
Images
Videos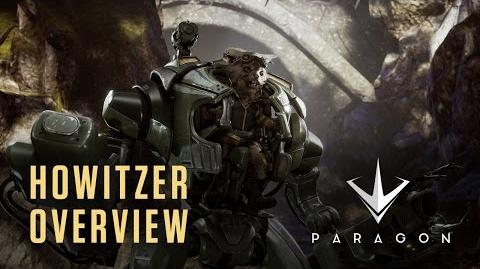 Change Log
Update .39 - April 4, 2017
Slow Grenade

Howitzer's Slow Grenades now become active .1 seconds once they hit the ground, down from .5 seconds.

Make it Rain

Howitzer post-ultimate directional leap is now more forgiving.
Update .38.3 - March 14, 2017
Land Mine

Base damage reduced to 60 / 100 / 140 / 180 from 75 / 125 / 175 / 225
Card Scaling reduced to 0.5 from 0.625
Duration reduced to 3 seconds from 5 seconds

Make it Rain

Cooldown increased to 105 / 90 / 75 from 90 / 70 / 50
Update .38.1 - February 28, 2017
Added "Shoot This!" emote to in-game store.
Update .38 - February 21, 2017
Polish & Bug Fixing

Improved timing of Make it Rain so that the FX more closely matches the damage application.
Howitzer's dome now correctly opens and closes during emote animations.
Fixed bug stopping Howitzer's Slow Grenades from being canceled with the Esc key
Fixed bug stopping Howitzer from using abilities after knocking back himself with Land Mine.
Update .37.1 - February 7, 2017
Polish/Bug Fixing

Fixed bug causing Howitzer's Make it Rain visuals not matching the damage intervals.
Update .35.1 - December 13, 2016
Slow Grenades

Decreased arc to 0.625 from 0.825
Decreased base damage to 60/110/160/210 from 75/135/195/255
Update .35 - December 6, 2016
R2000 Missile

Damage type adjusted from "Energy" to "Ability."
Projectile speed has been increased.
Cooldown adjusted from 12/11.5/11/10.5 to 8 seconds at all levels.

Land Mine

Damage type adjusted from "Energy" to "Ability."
Projectile speed has been increased.
Cooldown adjusted from 17/16/15/14 to 22/19/16/13 seconds.

Slow Grenade

Damage type adjusted from "Energy" to "Ability."
Projectile speed has been increased.
Cooldown reduced from 20 to 12 seconds at all levels.

Make it Rain

Damage type adjusted from "Energy" to "Ability."
Animation speed has been increased.
Projectile speed has been increased.
Can no longer be cancelled by Howitzer.
Cooldown reduced from 115/105/95 to 90/70/50 seconds.
Update .31 - September 6, 2016
Polish & Bug Fixing

Fixed Slow Grenades not being able to re-queue during a blocking ability such as Make it Rain.
Update .29 - July 26, 2016
Added Hardcase Howitzer to the in-game store.
R2000 Missile

No longer reduces the cooldown if interrupted after firing.
Update .28 - June 30, 2016
Slow Grenades

Now correctly refreshes the slow duration when an enemy hero hits multiple grenades over time.
No longer disappears if Howitzer is silenced after casting.

Polish/Bug Fixing:

Updated tooltip of some abilities.
Added Howitzer suit start-up sound.
Audio adjustments on Make it Rain sounds to be louder on explosion, quieter on shot.
Update .27 - June 14, 2016
Passive - Fast Reload

This ability has been removed.

Land Mine

Range increased from 1000 to 1250.

R2000 Missile

Range increased from 2000 to 2200.

Make it Rain

Range increased from 1500 to 1750.
Cooldown increased from 100 to 115.
Damage duration is 4.2 seconds at all levels.

Polish / Bug Fixing:

Jetpack sounds updated.
Audio added to emote, "Why I Oughta"!
Update .24 - April 21, 2016
Updated Select Screen animations for Sparrow, Grux, Howitzer and Gideon.
Update .23 - April 6, 2016
Removed Twinblast, Howitzer and Muriel as recommended Heroes.
If the Rocket ability is cancelled or replaced by another ability during the targeting state, it will now go on a short cooldown.
Added new targeting infor into the Rocket ability reticle. It now changes color to "red" when placed over an enemy target.
Update .21 - March 21, 2016
Updated details on the character model.
The Slow Grenade ability can no longer be interrupted by Howitzer's other abilities.
OT10 - March 5th, 2016
Patch 1:
Increased the bounds of Gadget's Primary and Howitzer's Muzzle Flash.
Patch 2:
Corrected issue where Howitzer's projectile was spawning before muzzle flash.
OT7 - February 13th, 2016
Rocket ability now properly highlights the targets it will hit.
OT5 - January 29, 2016
Fixed issue with Howitzer continuing upward if Make It Rain (R) was cancelled at just the right moment at the top of his leap.
Cannon (LMB) reduced scaling slightly.
OT4 - January 23, 2016
Increased card scaling of Rocket (Q).
OT2 - January 9th, 2016
R - Make It Rain
Reduced the targeting hang time for by 1.5 seconds.
Ad blocker interference detected!
Wikia is a free-to-use site that makes money from advertising. We have a modified experience for viewers using ad blockers

Wikia is not accessible if you've made further modifications. Remove the custom ad blocker rule(s) and the page will load as expected.