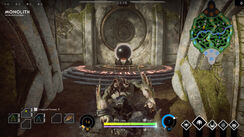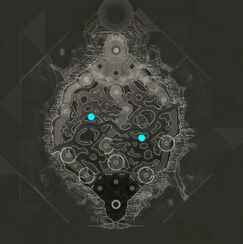 The Amber Link is a mechanic that was added to the game with the release of Monolith. Harvesters have been replaced by the link.
Once a match starts, players already have control of their Link. Over time, the Link will fill with card power. At regular intervals, it will then take some of its cached card power and automatically distribute it to the entire team. In addition to the small amount of card power that happens over time, the Amber Link will also fill with card power every time a nearby Jungle Minion is killed by a teammate. An enemy can sneak over to the allied side of the Jungle and attack the Link, stealing some of the cached card power for themselves.
The Amber Link gains 35 cxp every time an ally kills a white minion or a Green Guardian. Amber Links are emptied every 2 minutes, and the amber is distributed equally between each of the team members.
Amber Links cannot be destroyed, however attacking an enemy Amber Link will steal some of the CXP from it. Only the attacker gains the stolen CXP.
Ad blocker interference detected!
Wikia is a free-to-use site that makes money from advertising. We have a modified experience for viewers using ad blockers

Wikia is not accessible if you've made further modifications. Remove the custom ad blocker rule(s) and the page will load as expected.